As a Trader wanting to learn how to trade the Stock and Options Markets,  one of the key areas I identified in my early years, to improve my own trading success, was the need to quickly identify newly forming trends, instead of the top of the trading range, and how to define low risk entry points within an established trend.
So I would like to share with you, and review, a trading system product that has made a big difference to my own trading, and forms the cornerstone on my own ETF Trading System.
The product that I'm referring to, is the  Percent R DVD homestudy (aka. Williams %R), which was  created by 2007 Trading Hall of Fame inductee Price Headley.
So here is the problem...
How does a trader know when a stock is starting a new strong trend, or if its overbought at the top of the range. In my early days this was a question I struggled to answer. Check out the chart below to see what I mean...
If you note the candle that is circled above on the chart. Now, can you imagine that you are studying this chart on that particular day, with the circled candle on the hard right edge of the chart.  Would you know at that point, that this ETF was likely to blast off over the next month? In my early trading days, I wouldn't have known. I would have thought the ETF was over bought and was likely to move lower, especially after a doji candlestick.
But by learning Price Headleys Percent R methodology, you can know at the very beginning that stocks and ETF's like this one, are likely to develop into a strong trend, so you can jump on-board. Or maybe you would like to wait for a Pull back, and gain a low risk entry with his "Percent R Retest" method (which is my favorite).
There is even Percent R exit strategies, which works in well just like the Entry Strategies, by locking in profits on the way and telling you when to get out when the trend is over.
So who is Price Headley ?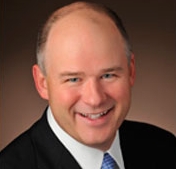 Price is the founder of stock market education company "BigTrends.com", and is also a highly respected professional trend trader of 20 years & an educator within the industry. He is famous for his market timing techniques, technical analysis techniques and has even created some of his own chart indicators.
Price is often featured in the media talking about the markets on CNBC, Fox News, Bloomberg TV, The Wall Street Journal, Barron's, Forbes, Investor's Business Daily, USA Today & has even authored a top selling trading book called Big Trends in Trading.
So what is Williams %R ?
Williams %R is an oscillator indicator similar to Stochastic and RSI, which was originally created by Larry Williams. The indicator was first created to measure both overbought and oversold conditions in stock price.
But this is where things get interesting...Price uses Percent R is totally different way to rest of the crowd (or conventional thinking).
So what can you expect in the Percent R DVD Homestudy...
Williams %R DVD #1 (1hr 30m)
Introduction
Percent R Rules for:

Bullish Confirmation
Bullish Retest
Bearish Confirmation
Bearish Retest

Examples
Percent R Quiz
Williams %R DVD #2 (1h 47m)
Percent R Q&A
More Examples - Turning Ideas into Action
Percent R "Bend But Don't Break" Filter (from a BigTrends Coaching session)
Williams %R DVD #3 (1h 58min)
Percent R Q&A
More Percent R Examples - Turning Ideas into Action
Multiple Time Frames with Percent R (from a BigTrends Coaching session)
Benefits I have found using the Percent R DVD Homestudy
Early identification of Bull and Bear Trend Structures with Williams %R Confirmation Signals.
Identification of low risk entry points with Williams %R Retest Signals.
Clear, decisive exit signals that tell me the trend is over.
Helps reset my stops at key inflection points, which helps prevent being whipsawed out of a trades.
Strict, easy to follow Rules Based System.
Rules can be setup in a scan to quickly target new trade opportunities.
Helps me quickly classify any chart into Bull Trend, Bullish Range, Neutral Range, Bearish Range, and Bear Trend.
If you are wrong, it helps keep it to a small basis, but if you are correct it enables you to ride the major trends.
Percent R works across multiple time-frames (with same settings and rules)
Teaches you how to get added confirmation across multiple chart time frames
Suitable for Day Traders, Swing Traders, Position Trading, Intermediate and Long Term Traders.
Ideal and effective as a Stocks, Indices, Forex, Commodities and ETF Trading System.
The Bad Part?
There is no bad part... because for a Limited Time Only you can get started for a reduced $197, and Price Headley is throwing in a bonus 4th DVD with more examples, Q & A, and more content on using Percent R on Multiple Time-frames.

So, if your looking for a Stock & ETF Trading System that helps you target the "Best of the Best" Trade Opportunities, and helps you quickly classify any market structure....then checkout this Percent R Trading System today, it  may be what your looking for.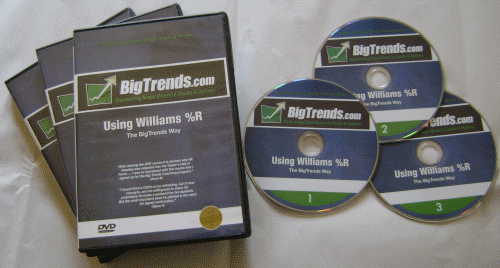 Happy Trading,
Trend Hunter.