Tip #1 - Learn how to be a Good Trader
All successful traders have had a mentor that they have learnt from at some point in their life, whether though Stock Market Tips from a friend, a trading book, a stock market forum or even a paid mentor or trading coach. Everyone learns differently, some prefer to studying charts, watching videos/ listening to audios and some prefer or need live mentoring and real-time examples. Which ever way, learning from someone else, who knows what to do, is the fastest and most effective way to learn how to trade.

In my opinion, Trading is not something that you can learn quickly on your own. You need to ask the right questions to the right person, and get help from someone who is successful at doing  exactly what you want to be doing. Then you can shadow their actions, ask to be mentored by them or simply apply their teachings.
If your a complete Newbie to Trading and don't know where to start learning, you can't go wrong with learn the basics, which include:
volume
support & resistance levels
trend lines
moving averages
There are truck loads of free information and Stock Market Tips on the internet, on these topics. So there's no excuse's to not start learning. Once you learn the basics, it will serve you as a great foundation to expand your trading knowledge and lead you to developing a style that suits you.
Tip #2 - Choose a Market to Trade that suits you
As a Newbie to Trading it is important to focus on a Market that you are most familiar with, and develop your ability to read that market. My point here is that you need to focus your attention on understanding the what drives the daily price action, how to trade that market, and what leverage is involved.
Understanding the market structure or having a desire to understand the market, will certainly give you and edge over the market, and give you patience to wait for your specific trade entry setups. Knowing when to avoid trade setups can be just as profitable as knowing when to take them.
Tip #3 - Choose a Time-frame that suits you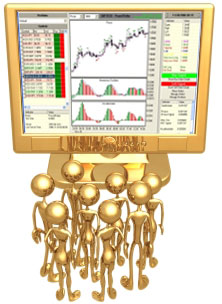 Focusing on a time-frame that suits the amount of time you have available every day, week or month, is also a good idea. If you only have time to look at charts in the evening, after the markets close, you probably need to trade off the daily or weekly charts.
The Chart Time-frame you trade off will also dictate your intended holding period for each trade position. If your trading off weekly charts, its important to trade off the close of each weekly bar, likewise if your trading off Daily or even intra-day charts. So if your uncomfortable with waiting a full week before you close a losing trade, then your probably best to trade a smaller time-frame.
Its a dangerous game trying to rationalize your decisions, if your constantly flipping between time-frames, thinking the weekly chart says this, but the daily chart says that. Learn to trade one time-frame well, and use the larger time-frame to ensure your in tune with the underline trend, and you can the smaller time-frames to finesse your entry, if it suits you.
Tip #4 - Find a Trading Strategy that it works for you.
One of the most profitable Stock Market Tips I can give you is to find a Trading Strategy that works for you, the market you trade, the time-frame you trade and also the risk tolerance that fits your investing style.
So in its simplest form, what's included in a Trading Strategy:
Some Money Management Rules
What instruments you will trade. (stocks, options, futures, etc.)
Although finding a winning Trade Entry and Exits strategy may take you some time, the key attributes you must achieve are quiet simple.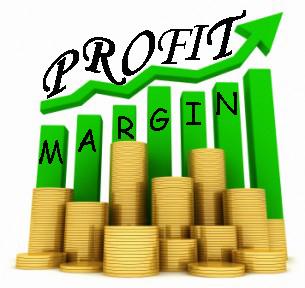 Wait for it .......
Your income must exceed your expenditure
There are ONLY 3 ways of doing this:
Have more winners than net losers
Your average Winners are bigger than your average Losers.
And preferably a combination of Both.
Then you can Test (or backtest) and verify.
Even Paper Trade it if you like....
In my trading I focus on low risk, high probability trade setups, which I understand, and that's all I trade. The more time you spend trading, keeping trade journals and constantly improving your techniques, the better you will become..... who knows, you may find yourself going back time and  time again, to certain investments or trades setups that consistently make you money.
So what is your style?
Leave a comment, I'd love to know.