Are you after consistent, successful results in Trading the Markets...
Then the aspect you must include in your Written Trading Plan is how you will find your new Trade Picks.
Now, I'm not talking about your Trade Entry Method specifically, I'm talking about the process you use to find and filter your Trade Opportunities. It can help you avoid the non-performers and save you time.
Below are 4 ways to improve your New Trading Picks Process
Scanning for new Trade Picks

Scanning for new Trade Picks is all about trying to find new money making ideas, quickly...
Assuming that you are trading from Technical data rather than Fundamental data, you are going to need some kind of charting and scanning tools to give you the information you need and to save time. There are many options available, both web based and software based, but there is no need to spend a fortune.
Once you know what the Trade Entry Method is that you are looking for, you can set up scans to filter out unwanted stocks and display only the stocks opportunities you desire.
Personally I use a software package called Amibroker, which is relatively inexpensive, has the ability to download free daily data and paid intra-day data, comes with a library of technical indicators and is highly configurable so that you can write your own indicators and scans ( with a little knowledge). You can even back test systems on historical data....
When starting out in stock market trading I suggest trying to master only one trade entry method at a time.
Filter Trade Picks to a Watchlist
Many inexperienced traders believe they have to keep searching for a magic system which consistently finds the good Trade opportunities. When realistically the success of most entry systems can be significantly improved or deteriorated by the effectiveness in which you filter the good trade opportunities, from the bad.
Most Trade Entry Methods will often give you more signals than you need to trade, and obviously all trade signals are not equal.  I prefer to filter my trades with a set of secondary indicators that help me quantify how strong or weak a potential Trade Pick is, this helps me whittle the list down.
A few other basic filtering methods that could be used are :
price
volume
candlestick patterns
history of whipsawing
Support & Resistance
Option Open Interest (if trading options)
Compare the next smallest Time-frame chart
Earnings Announcement
If your really cleaver you can even include some of the above in your initial Trade Scan and hey presto.... you can cut through a database of more than 7000 stock to a list of 10-20 pre-qualified stock.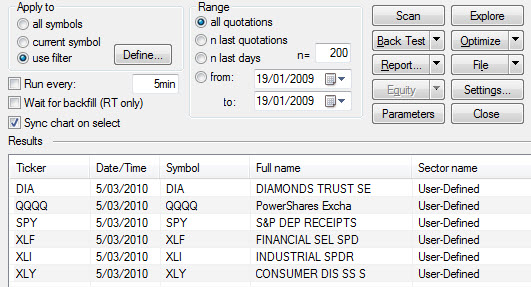 Filter your Watchlist to a Trade Pick Hotlist (3 best Trades)
Once you have a Watchlist, this can sometime still leaves you with too many stock to choose from.
So there are other criteria you can filter with to ensure you are also in tune with what the Market is telling you, and also being disciplined to follow your Trade Money Management Rules in your Written Trading Plan. Some examples of these are:
Being in tune with the Market Trend
Being in tune with the Market Sentiment
Following your Money Management Rules
Calculate the Risk to Reward Ratio on Trade Picks.
Finally it is good practice to calculate the Risk to Reward Ratio of the Trade Hotlist to ensure you are not taking on excessive risk,  compared to the potential reward should the trade moves in your favour. You can read more here on Risk to Reward Ratio.
I hope that you are enjoying this blog series on the "Top 10 questions a Trading Plan must answer". Below are all the posts in this series:
Stay tuned next week for "What is your Success Profile"
Cade Arnel
Trend Hunter
www.globaltrendtraders.com 2009