When creating your Written Trading Plan, two of the most important things you will need to include are your Trade Entry Method and your Trade Exit Methods. As with every trade entry there must be a trade exit strategy. Many traders place a high importance on finding the perfect trade entry, where knowing when to get out can also vastly improve your portfolio performance.
The basic purpose of a well constructed Trade Exit Methods is to let your winning trades run and the cut your losing trades short, as soon as possible. In addition to that once your trade starts moving in the right direction it is important to firstly maintain at least a break-even position and also not to allow profits to slip away substantially.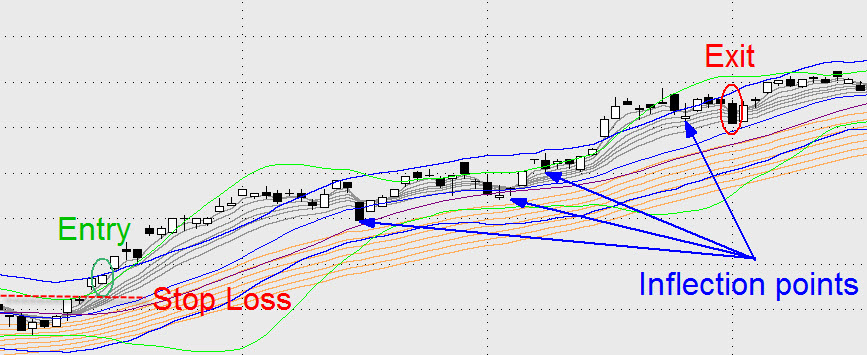 Trade Entry is easier than Trade Exit
It is important to remember that as a Trader, the Entry is always psychologically easier than the Exit. Entry into a position is easier because we feel as if we are in control of what price we buy at, though once in the trade, we no longer feel in control of the price, and deciding when to exit can become difficult.  This is why when profit taking, we feel as if we are letting potential profits go, and when in a losing trade you find yourself hoping the price will turn around, and find it difficult to accept that it is a losing idea.
Trade Exit Methods to improve your Trading Performance:
Stop Loss
A stop loss in its simplest terms is the "Risk you are comfortable to Accept" in a trade, it should therefore be determined before entering the trade.  Many Traders prefer to use some kind of technical support or resistance to determine to the cent the price to set their Stop Loss. By predefining your stop loss it also helps you determine if you have found a Low Risk Entry.
Trailing Stops
A Trailing Stop is commonly used by traders to preserve profits. There are many ways trail your stops, some of these are: a % below the last close, the low of a previous days bar, or setting resetting them only when key inflection points in the trend are reached. Whichever way you decide to trail your stops it is important not to set them to tight, as a small pull back in the trend may be enough to trigger your  stop and exit when the trend has not yet been violated.

Profit Taking

Once you have a position which is a winner, it is a balancing act of letting your winners run and protecting your profits by taking some money of the table. It is a good idea to have set intervals at which you will take partial profits, then you are locking in profits along the way and you can let the last portion of your position run till the trend violates. This also helps get your Initial Risk Capital back and puts you in a free trade position.
Break-even Stop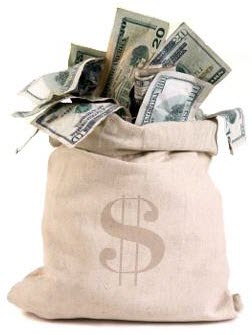 A Break-even stop is method which after an initial gain, is used to prevent an initial winning position turn into a losing position. The general idea is to raise your Stop Loss up to Break-even after the position has reached a certain percentage gain.

Time Stop
A time stop is not a method which is commonly used but can benefit you whether you are trading stocks or stock options. The general idea is that if a position isn't going anywhere after "X" amount of days, to close it, and move you capital and your focus onto another fresher opportunity. The time stop serves many purposes, it reduces the opportunity cost on your capital, if you are an option trader you have time decay risk,  and lastly it will shift your focus from Non-Performers to Winners
Some careful thought is recommended into how you use some or all of these different Trade Exit Methods in your written trading plan. Because at the end of the day it must be simple and easy to execute.
I hope that you are enjoying this blog series on the "Top 10 questions a Trading Plan must answer". Below are all the posts in this series:
Stay tune for the next post on " Trading Plan - Entry Orders and Exit Orders "
Cade Arnel
Trend Hunter
www.globaltrendtraders.com © 2009