With Stock Market Trading we must always be on a path to Learn & Improve.
Too be Green and Growing, so to speak...
A Trading System Review is the best way to constantly monitor if your performance, your systems performance and overall Portfolio performance is up to scratch. It will also help identify weaknesses for improvement and strengths to continue with.
Self Evaluation
When going through your Trading System Review, the first and easiest thing to review is yourself. Below are some simple question you can answer on a daily basis, which will tell you a lot about yourself.
Rate yourself Physically, Mentally and Emotionally.
I believe it is important to review how you are feeling each day, before you even begin trading. I like to rate how were I'm feeling Physically, Mentally or Emotionally out of 10. After totaling my score for each I prefer to see a score between 26-30.
This process can help me identify days when I'm feeling drained, in either area, and then I can make a call if I trade or not, for that day. It takes less than one minute to do, and may well save you a bad days trading
Am I Prepared for Success.
It is also a good idea to ask yourself the question "Am I Prepared for Success". Meaning have you completed your analysis and developed a Focus List prior to the start of trading. Trading unprepared puts you under unnecessary pressure and can lead to making hasty decision and mistakes. It's much the same as arriving at work 10 minutes late because the power went off, then you are in a rush for the rest of the day, which can snowball and lead to mistakes.
Did I Follow my Rules.
Then last but not least, at the end of the days trading you can ask yourself did you "Follow your Rules". This question is one of the most important because, it will highlight if you are trading disciplined, and enable you to improve your Trading consistency.
Trading System Review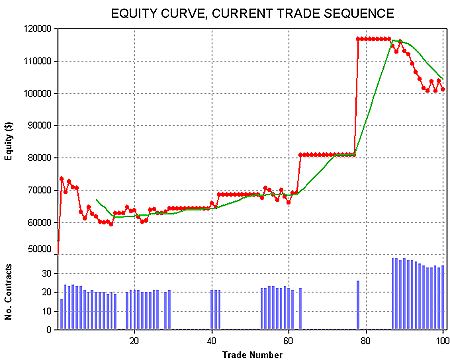 When doing your Trading System Review, its important to measure how your Trading Systems is performing. Sometimes Trading Systems suit certain Market Environments. So its important to know when your system is working and when its not, to help preserve your Trading capital, for when the odds are back in your favor. Below are a few ways to do this:
Trade Equity Curve
I usually track my Trade Equity Curve for every trade, whether its paper or a live trade. This tells me if my Trade Entry Method is working. Once I receive the signal that an Entry Method is no longer working, I simply paper trade that system until it tells me it is working again.
Other methods of Trade System Review
Another method of determining if your Trading System  is performing, is to look at a combination of trade statistics.
These include:
Average size of Winners & Losers
Winning and Losing percentage
Winning Months percentage
All this information can be easily calculated in an Excel spreadsheet from your trade data.
How will you know if your Trading System is broken
When creating a Written Trading Plan, many traders only consider how they will attempt to make money, not how they will preserve their trading capital.
How will you know if your Trading System is broken or not working.  At least if you are prepared, then you are a fighting chance to preserve your trading capital, reassess and live to trade another day.
I hope that you are enjoying this blog series on the "Top 10 questions a Trading Plan must answer". Below are all the posts in this series:
Stay tuned next week for "Develop you Daily Trading Routine"
Cade Arnel
Trend Hunter
www.globaltrendtraders.com 2009